( artist opportunities) (on the easel) (journal)
Page update 03/25/02 all text and images ©,2001 Donald R Ricker and ArtSceneAK.net all rights reserved
---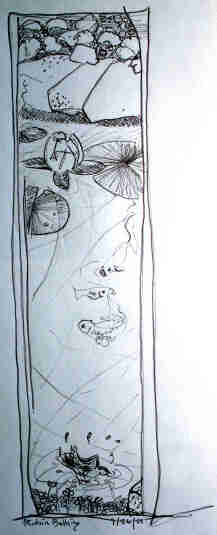 on the easel: LILY POND PANELS
©2002 Donald R Ricker
Natural scenes of the ornamental pond outside the studio from sketches and memory. These colorful paintings are being made to relieve the relentless white and black of Alaska's six months of snow...
---
--- OTHER NEW THINGS ---
caveat emptor: contact these opportunities directly for full details; this list is not exhaustive but is a jot list for my personal use and you are welcome to take advantage of it.
---
3/25/02 Emphasis on Visual Arts in Alaska is available on line and sponsored in part by Exegy and the Ricker Collection.
9/11/01 Web gallery of artists' responses to the tragic events of this day invites participation: "The 2nd question is to help me continue to get this out there. thanks, Nina" www.theARTproject.net info@meledandri.com
12/07/01 - 12/16/01 exhibition BIENNALE INTERNAZIONALE dell'ARTE CONTEMPORANEA III at the Fortezza da Basso in Florence Italy will showcase the work of over 600 artists from more than 40 countries around the world under the directorship of John T Spike. I will be participating again this year and showing Seven Sisters to the world. It was a blast, but very sparsely attended. Artists awarded the Lorenzo il Magnifico medallions this year.are listed here, and a collection of photographs of the show, its environs and some of the work and artists involved are accessible at http://207.106.225.146/ courtesy of my nephew Clifford Stevens..
11/28/01 deadline INTERNATIONAL GALLERY of CONTEMPORARY ART is seeking proposals for exhibitions 2002-2003 actually a rolling deadline, as proposals are accepted and considered as they come in.. &c to IGCAA PO Box 101403, Anchorage AK 99510 http://www.igcaalaska.org 907-272-1489
11/9/01 deadline ALASKA STATE MUSEUM invites artists wishing to be considered for solo exhibitions 2002-2004 to submit &c. AMHA curators offer instructions for how to submit 10 slides & exhibit proposal. 1-907-465-2901 Alaska State Museums in Juneau and Sitka http://www.museums.state.ak.us/pdf/prospectus2001.pdf ITNA: Caught up in last minute Biennale planning. Congratulations to MATT JOHNSON, one of those selected to exhibit.
10/9/01 deadline Seattle Arts Commission PRINTWORKS 2002 has budgeted $25000 for the purchase of hand-pulled prints only. contact Beth Sellars 206-684-7309 beth.sellars@ci.seattle.wa.us
10/5/01 deadline Anchorage Museum of History and Art All Alaska Juried Art Exhibition XXIX Juror Elizabeth A Brown, curator of the Henry Art Gallery at the University of Washington. $4500 awards plus purchase prizes. AMHA curators offer instructions for how to submit slides and $15 to AAJ, AMHA, 121 West Seventh Avenue, Anchorage AK 99501. I could not find any wording which could be described as an invitation on the prospectus; key word here is SUBMIT. At the last minute of course I did, when I remembered Seven Sisters... For a review, see the January 2002 issue of ArtSceneAK.
9/19/01 deadline MAT-SU School District requests proposals for 1% for Art budgets for four different schools and sets the deadlines all for the same day. This probably makes the panels jobs easier, but it makes it difficult for artists to respond to every proposal.
GLACIER VIEW SCHOOL: budget $36,420 Upper Foyer Area Artwork based on the Matanuska glacier proposals.I actually rented a car and drove the 200+ mile round trip to check this one out but was defeated in the end by time and money concerns .
MEADOW LAKES ELEMENTARY SCHOOL budget $78,000 Wild About Learning theme natural inhabitants proposals
TEELAND MIDDLE SCHOOL budget $120,000 Cafetorium Artwork slides only
LARSON ELEMENTARY budget $62,000 School-Wide Thematic Artwork slides only
contact for all four: Connie Lutz, 907-376-0806 Mat-Su Borough School District, PO Box 876290, Wasilla AK 99687 Constance.Lutz@gw.co.mat-su.ak.us
8/15/01 congratulations Eagle River resident Chris Standley's proposal was selected for the following project. My proposal was returned; "The jury appreciated the quality of your work and appreciates the time you took to submit a proposal." Tschaw.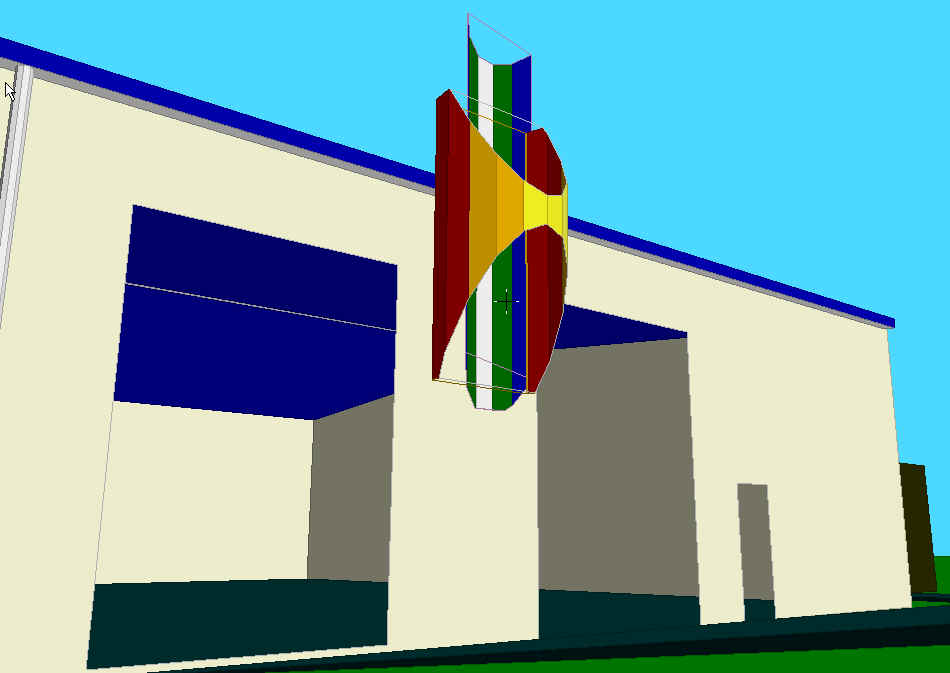 7/30/01 deadline Municipality of Anchorage EAGLE RIVER FIRE STATION seeks 11"x17" concept sketches for exterior artwork. $9000 budget. Contact Jocelyn Young 907-343-6473 Anchorage Museum of History and Art, 121 West Seventh Avenue, Anchorage AK 99501 youngjh@ci.anchorage.ak.us
TRUST is the title of my concept proposal, which may be experienced in the 3D virtual environment in which it was designed. It is a site specific piece designed to combine elements of the traditional EMT & Fire Station icons while suggesting the mountainous and river rescue elements of #11's mission.

7/29/01 exhibition International Gallery of Contemporary Art FLOATABLE ART at the Westchester Lagoon. one day only 11am-3pm
"'We pull up there, and we stick things in the water and we hope they float,' said one of the event's organizers. In a makeshift rowboat carved from a foam block, artist Don Ricker towed out a wooden frame on floats that explored the idea of 'sustainability' with a torn sheet and some sort of hanging globe." --- Anchorage Daily News reporter Doug O'Harra 7/30/01.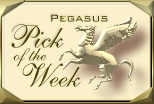 4/28/01 honor awarded PEGASUS GALLERY director June Kaminski sends word that: "You have been chosen as my "Pick of the Week" at the Pegasus Art Gallery, a token of recognition for your amazing art." Thank you for the encouragement, and for the many selfless hours spent by Ms Kaminski to the benefit of a large group of international artists.
3/30/01 deadline 2001 All-Alaska Juried Sculpture show invites submissions by slide to Asia Freeman 1-907-235-2662 Bunnell Street Gallery, 106 West Bunnell Street #A, Homer AK 99603. Works will be selected by Tom Joyce, metalsmith and multi-media sculptor from Santa Fe, NM who will participate in a sculpture symposium weekend associated with the opening.
3/02/01 deadline 2001 MAYOR'S ARTS AWARDS: Anchorage Municipal Arts Advisory Commission seeks nominations for Individual Artist, Arts Organization, Champion of the Arts, and Youth Arts awards to be honored for their artistic excellence and contributions to the community. contact Marianne B eckham, 907 343-4481 for info, fax or mail your nominee, a short nomination essay & biography of the nominee to 343-4318 Mayors Arts Awards, PO Box 196650, Anchorage AK 99519-6650 Presentation of awards is Aril 26, 2001
2/16/01 Congratulations to Decker/Morris Gallery, voted best experimental contemporary gallery in Anchorage by the readers of the Anchorage Daily News.
2/26/01 deadline Inspiration Studios in Anchorage offers two $200 courses in clay modeling by Sculptor Lynn Marie Naden in March. 907-235-5966 2607 A Street Anchorage AK 99503 naden@ptialaska.net deadline is for registering.
2/15/01 Anchorage Daily News art reviewer Mikki Smith writes about 'Dog Heaven' and I am delighted. "This installation is better after dark and from a distance." Gosh!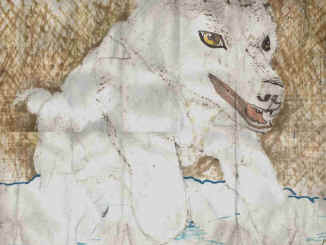 2/2/01-2/28/01 exhibition FEBRUARY Decker/Morris ANNEX Gallery hosts Donald R Ricker installation, Dog Heaven. Look for it at G street and 7th on the northeast corner. Critics pronounced it at "Tail wagging success ... I counted over a hundred wet nose prints". Drive-by Art for the month of February!

PEGASUS ART GALLERY has remodeled their gallery featuring Donald R Ricker. Thanks and applause to Ms June Kaminski, whose hard work continues this international virtual gallery started by Alenka Marovt.
1/30/01 deadline HOMER COUNCIL on the ARTS seeking Executive Director, HCA, 355 West Pioneer Ave #100, Homer AK 99603
1/30/01 deadline SCENIC PARK Elementary School jury seeks slides and/or 11"x17" concepts from which to select finalists for $25,000 1% for Art commission budget. "work of art that will greet students". Contact Jocelyn Young, 907.343.6473 AMHA 1% for Art, 121 West 7th Avenue, Anchorage AK 99501 youngjh@ci.anchorage.ak.us
1/26/01 deadline SEATTLE COLLECTS 2001 will purchase up to $70,000 in "portable works purchases" from Seattle residents or those with an established history of exhibitions in the Emerald City. Artworks larger than 4' high by 4' wide by 1' deep will not be considered. Beth Sellars 206.684.7312 SAC, 312 First Avenue North, Seattle WA 98109-4501 beth.sellars@ci.seattle.wa.us
1/16/01 deadline CREEKSIDE Elementary School panel seeks slides and/or 11"x17" concepts from which to select finalists for $68,000 1% for Art commission budget. "reflect warmth, caring, the children; do NOT want ANIMALS!" Contact Jocelyn Young, 907.343.6473 AMHA 1% for Art, 121 West 7th Avenue, Anchorage AK 99501 youngjh@ci.anchorage.ak.us
1/16/01 deadline Anchorage Museum of Art seeks slides etc of 2d & 3d ARTWORK FEATURING BUGS for yearlong exhibition in childrens gallery. Open to artists in USA contact Julie Decker 907.272.1589 PO Box 101403, Anchorage AK 99510 julied@alaskalife.net
1/15/01 deadline All Alaska Native juried art show entries to Alaska Native Heritage Center. Jurist Jack Abraham will select from slides. $1500 total awards 907.330.8000 open to real people, these artists can legally use materials protected by the Marine Mammal act and the show is March 2-30, 2000.
1/12/01 deadline Alaska Contemporary Art Bank seeks to add $65,000 of original one-off artwork to it's holding of over 600 pieces. Committee members will choose from among slides (no more than 15) submitted by resident Alaskans only. ASCA Shannon Planchon 907-269-6610 shannon@aksca.org http://www.aksca.org
01/01/01 Happy New Millenium!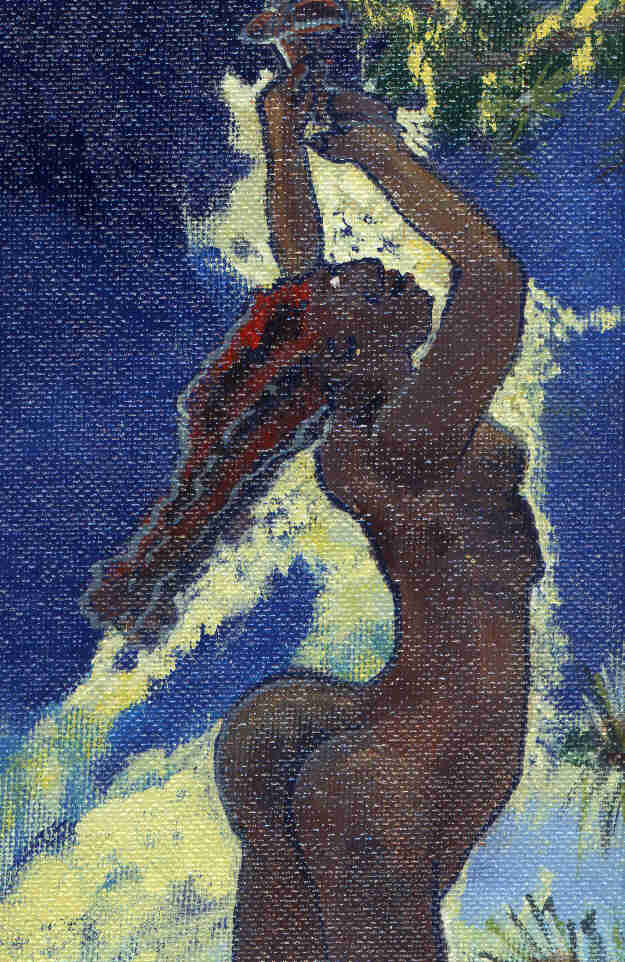 11/03/00 opening reception Anchorage artist Donald R Ricker (me!) is hosted at 'D' Street Café with the introduction of new works from the Nude Excuse series. Late night art party, starts at 9:00 pm-closing.
10/30/00 BID CLOSING PARTY ($) ICGA fundraising exhibit and silent auction rumor has it that my piece was sold, apparently it is not considered good form for the lucky recipients of largesse to keep contact with their contributors. However, the clear fact is that there is a person out there who liked my stuff enough to collect it, and that information is not being shared with me, nor have I been told what price it brought at auction. I also contributed my doggone PA head and one stack for use at their party which I was not prosperous enough to attend.
10/30/00 deadline Scott Spring of Fairbanks band <ethos> reports that they are producing 2nd CD and seeking good Alaskan artwork for the cover, insides, back, etc. Looking for Evon Zerbetz, but would love to see some of your work, if you are interested in having a piece on an album cover, t shirts, the web, posters, etc. contact S Scott Spring ftsss@uaf.edu 907-457-1863 www.ethos26.homepage.com

10/06/00 exhibition 10/30/00 BID CLOSING PARTY ($) ICGA fundraising exhibit and silent auction will feature the graphic digital print on canvas titled C'thulhu but please do not try to pronounce this at home. Here is a version of it formatted for your web enjoyment: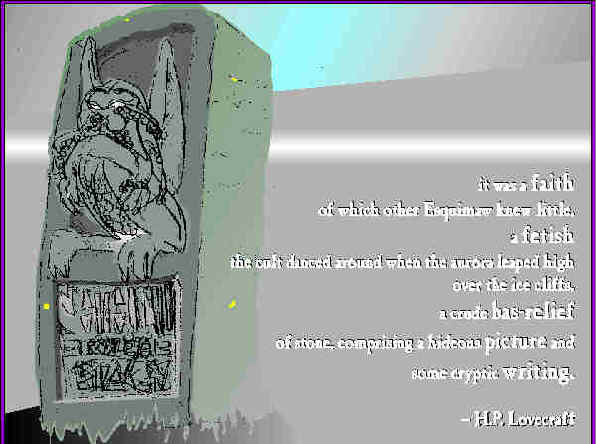 10/3/00 deadline passed ITNA NEW SOUTH ANCHORAGE AREA HIGH SCHOOL 1% for Art seeking "Artist/Artist Led Design Team" requests slides & supporting documents for a lead artist to work with the art selection team to develop locations, art media, and potential artists for a $400,000 budget. Initially, three artists will be paid fees of $5000 plus travel & per diem to fully develop proposals and for two meetings with the committee, who will select one of the three o recieve the lead design artist fee of $30-50,000. Contact Jocelyn Young, 907.343.6473 youngjh@ci.anchorage.ak.us This is clearly a nationwide call, check this language which seems to exclude the possibility of this going to anyone in Anchorage:"the Jury would also like the lead artist to work in collaboration/ as a mentor with a local artist. This will give artists less experienced in this capacity an opportunity to work first hand with experienced public artists working in the field".Interestingly, the prospectus goes on to say that the local artist will be paid a stipend to serve as a liaison to the local community and resource to the lead design team artist. Jury is seeking intellectually stimulating, integrated, technological, and documentable work by choice.. The prestigious members of the art selection jury and Ms Young are to be congratulated for their efforts to develop this project. This prospectus was released two weeks before the deadline.
10/1/00 deadline "Dear Artist and Friend' INTERNATIONAL GALLERY of CONTEMPORARY ART is seeking artwork donated by artists for a three week show culminating in a fund-raising silent auction at a Halloween party 10/28 at the gallery. "We know artists are solicited frequently; we promise not to do it too often. We like to think that no other organization is so close to artists, so deserving, and as needy." Contact Julie Decker 907.272.1589 julied@alaskalife.net
Isn't that nice? I'm pretty close to (being) an artist, I like to think I'm deserving and needy, and I am also gullible and desperate enough to donate something that typically costs me around $100 for the 30 hours of exhibition time and I cannot afford to go to the auction. It is unfortunately true that I am perhaps the most reluctant regarding these fund-raisers. I bet this happens in your community too. Our museum, United Way, YWCA stand out among others who solicit artwork. Surely those directing these fund raising efforts realize that donations of artwork should be solicited from collectors. They can actually benefit from tax deductability of the market value of the item where artists can claim only provable material costs. Second key benefit: churning the market and encouraging secondary sales of contemporary works. This is where value is added for the artists, rather than subtracted when artists themselves donate work. Plus it opens up wall space and interest in new works among established collectors. Those who donate will come to the auction also, n'est ce pas? This is so plain to my uni-focal vision as an artist that it is difficult to understand why directors of non-profits whose charters speak of benefiting the arts seem blind to it. Ms Decker is especially diligent, perhaps there was a letter sent to Dear Collector and Friend.
---
Have an artist opportunity to submit? Send printed prospectus to Donald R Ricker, PO Box 103554 Anchorage AK 99510-3554 USA . Visitors from other nations around the Pacific Rim are especially encouraged to contact us. ArtSceneAKartsceneak.net
Want more?Check out What WAS New 2000!.Choose ITNA to view the artists' opportunities on which I Took No Action.
return to top.