all text and images © 1999Donald R Ricker all rights reserved
8/31/99 deadline passed, I actually submitted.BTW, these were to be addressed to Kathy Vail-Roche, although that information was not in the prospectus. Sometimes, the anonymous quality of modern life becomes almost inhumane. Then the rejection of your high falutin artist statement and soul searched autobiography comes addressed to Applicant. Solo Exhibitions 2001-2002 applications accepted at the Anchorage Museum of History and Art open to Alaska residents only. Usual deal, 20 slides to 121 West 7th Ave, Anchorage AK 99501 Museum generally accepts half of a dozen artists, including photographers, painters, and sculptors in past selections. Curator Dave Nicholls has said that the Museum will acquire at least one work for its own collection from each exhibit, offers printed invites, small catalog, opening reception, 25% commission, and has a gift shop. He also has confided that only the most professionally produced slides pass the initial sorting process. Some call it the kiss of doom to achieve the highest visibility recognition available in your area, but as the artists say among themselves, it looks good on the resumé. Don't miss this one as it only comes up every two years.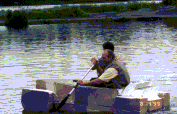 8/16/99 FLOATING ART SCENE was the headline in Sunday's Anchorage Daily News describing the unique group installation project at the Lagoon. Dozens of children and their parents were spontaneous contributors. To quote reporter Karen Aho in part, "Don Ricker, a grown-up artist, had used chain saws to cut two rafts from 2'x4'x8' blocks of styrofoam. The cinderblock gray crafts looked like the Flintstones at sea, but ended up stable crafts and the viewing platforms of choice." My mom in Philadelphia was delighted that I am now, officially, grown-up.
8/14/99 deadline FLOATABLE ART show at the Westchester Lagoon in downtown Anchorage today from 11-4. I lettered the banners for the site and expect I'll make some sort of something to participate. People in Alaska interested in this one day event contact Don Mohr 243-3654
8/14/99 deadline passed 'Rarefied Light' Alaskan annual statewide juried photographic exhibition entry info inquiries go to Alaska Photographic Center PO Box 243514, Anchorage AK 99524-3514 Darell at 907-243-7741. entry fee is $25 for three entries, $10 each extra for non-members like me and $15/$6 for members. Get your framed submissions to the Anchorage Museum on time (before 5 pm) and hope juror Marita Holdaway of Benham Gallery in Seattle takes a shine to yours. I have been encouraged by my friend Matt Johnson (a previous award winner in this show) to participate so I better, eh? When the Pope tells you to pray, you pray! As for the rest of yez, if you're a painter why take a chance away from a real photographer? And if you love photography, can you imagine a grander land full of more enthusiastic chroniclers than Alaska? I call it Scarcified Light, but there are some primo visions in every year's new show; check it out in September. BTW, I didn't pray.
08/12/99 meeting with Museum director and chief curator passed, no sudden changes. I felt that curator Dave Nicholls is warming to my unique and honorable situation and that Director Pat Wolf gave my presentation her complete attention, promising to think more about it. Its all good. This was the first that she had heard about it, and even I was a bit skeptical when I was first nominated.
08/11/99 spending time carving huge 2'x2'x8' slabs of styrofoam for the above mentioned Floatable Art. I finally got my appointment scheduled with the head of the Anchorage Museum to discuss my participation in the Florence Biennale. Hopingly something good will come out of it. Perhaps they will be able to carry the 501(c) corporation umbrella for me with the Pacific Northwest Foundation. Computer billionares have established some very generous new foundations on the west coast. See also the Paul Allen Foundation and the Bill and Melinda Gates Foundation. There's another called the Kreielsheimer Foundation, no link yet.
08/09/99 deadline passed Seattle's Center on Contemporary Art (CoCA) call for curatorial proposals, ideas for shows, visual arts exhibitions, public art, video and installation work, and performances. Their mission is to bring ambitious and innovative art to Seattle audiences. contact Liz Shepherd, Director, CoCA, 65 Cedar Street, Seattle WA 98121 email to coca@speakeasy.org
I took no action even though they were willing to extend the deadline for me. I could get no more than polite interest in this opportunity from among those of my colleagues who could legitimately be called curators. We don't give a damn how they do it outside, since it's too hard to be smug without being ignorant, I guess.
8/06/99 just discovered that I am a featured artist on the excellent World Wide Art Resources site with a cootchie location near the top of their list of links. Welcome to anyone visiting from there, and a big thank you to the folks at WWAR for what they do so well!
08/01/99 launch date EDINBURGH INTERNATIONAL Internet Festival has offered me the opportunity to participate electronically during that city's physical festival days. For more about this contact Paul Steele at The Edinburgh Celtica Gallery, PO Box 17106 Edinburgh Scotland EH11 2WD or visit http://www.edinburghceltica.com email to: gallery@edinburghceltica.com I will be involved as an 'Area co-Ordinator'; as you can expect, I intend to rule things with an iron fist in My area.
07/20/99 I am delighted to be informed that my request to the Alaska State Council on the Arts for Career Opportunity grant funds to travel has been funded in the amount of $800. Muchas gracias, amigos! I have also received substantial contributions from two couples who are close friends of mine, and with my own contributions I am at 20% of the propective costs of going to Florence. Man, I am on my way!
07/12/99 I was interviewed by Cliff and Kara Livingston-Thrasher for their cable access show called WIERD ALASKA (10:30 Saturday nights on 44 in Anchorage) for an episode in September.
More later on that, more importantly CONGRATULATIONS WOMEN"S WORLD CUP SOCCER CHAMPIONS U.S.A. Wow! What a thrilling scoreless draw! Goal-line save by Lilly/Chastain in overtime and the denial by Scurry in the shoot-out was a football fan's delight. Plus a big nod to the Chinese women who played with a skill and determination that was (nearly) unmatchable. And yo to Brandi for her amazing jersey stripping maneuver!!! Note the date of my prophetic drawing showing her clad only in trunks and championship medal, made after the victory over Germany.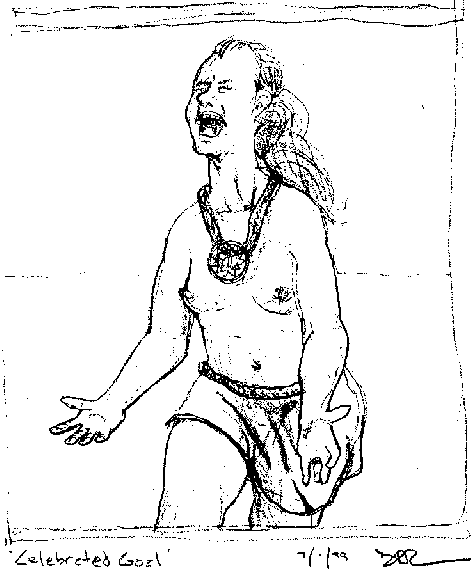 07/08/99 Nice letters of support from Anchorage Mayor Rick Mystrom and from Alaska Governor Tony Knowles for my mission to Italy. I have attempted to open correspondence with the Rockefeller Foundation's Cheryl Katz, who is program director of Arts International for the Intitute of International Education. They are partners with the USIA (United States Information Agency), the NEA, and Pew Charitable trusts. In line with the modern way of favoring the group over the individual (bless you serra, serrano, and mapplethorpe), these folks could be ideal allies for my efforts but have formally excluded me from participating directly with them. Their application form says it all, shows exactly how to fit the harness on. I was surprised to find that an 'independent curator' would qualify to apply for support where an 'individual artist' would not. Profitable galleries are excluded as are artist collaboratives, but section 501(c) not for profit museums, non-profit galleries, visual artist organizations are encouraged to get their names on the mailing list and receive invitations to apply. Believe me, I would be encouraging the Anchorage Museum to apply for these funds if they would be willing to meet with me. Quoting from the Foundation's materials here: 'Support is provided to cover presentation costs such as conservation, crating, insurance, shipping, travel for artist(s) and curator, preparation of a modest interpretative publication for shows; international audiences.'
07/01/99 Nice review by Chris Ross in the Homer News, didn't mention me, but did say 'figures nude and otherwise are prevalent' and quoted Clarence Morgan saying 'work seemed to derive inspiration and motivation from personal, internal sources and moral themes' which I'll construe as applying to Party for Rousseau!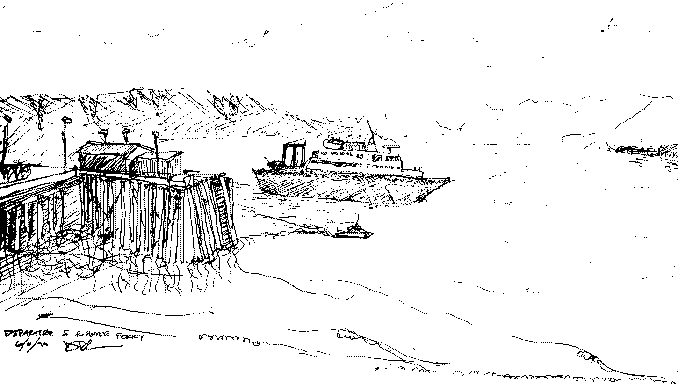 ---
06/04/99 - 06/30/99 All Alaska Juried Painting Exhibition. Opening reception, lectures, and painting symposium for first weekend in June. Juror Clarence Morgan, a professor of art at the University of Minnesota, selected my painting for inclusion in the exhibit, located at the Bunnell Street Gallery, 106 West Bunnell Street #A, Homer AK 99603 Here's a chance to see one of my paintings, PARTY FOR ROUSSEAU, made in 1995, that has never been before the public. Just drive north and then west as far as you can on the road system and you'll get to Homer, Shangri-la of the North. . Contact: Asia Freeman 907-235-2662 Email to: bunnell@xyz.net
Can't make it? Visit my site during June to link through to eBay auction offerings of my tabloid sized reproduction of this painting sure to appeal to artists especially.
The symposium was a total blast, not overwhelmingly pedantic, but not the bare knuckles battle I had hoped for. Lots of great community, fantastic scenery a block from Kachemak Bay, my picture had a brand new baby grand piano situated underneath it and couldn't have looked happier!
CONTEMPORARY PAINTING  (Thoughts after symposium, DRR 6/7/99)
Using paint makes a painting and makes a person a painter.
From there arise the levels of skill which mark the fine artist.
To slop it, to slosh it, to mark your panel, a process of pushing paint.
Repaint it examine the surface properties it's electronic possibilities
Painting is culturally inbound through the tools offered the children
The support of market structures and academia create a flywheel effect
The genetic imperative of the painter hardwired to the source
Embellishing their environments from a metaphysical impulse
And underneath the froth and debris at the top of the pile
The deep running ground of observation and delineation.
Film rules, movies sell, athletes fill stadiums, paintings hang in living rooms.
The automation and consumer homogenization of society adds value to creative work.
But painters sometimes fear their unknown audiences, each other, and the gatekeepers
Needing reinforcement of the knowledge that as progenitors they are most highly valued
Fear of 'they' paralysis of the soul the creation of the marketable the survey of opinion.
All agree that both paintings and painters are important. 
Even when painters become famists, or when the lack of meaning becomes impenetrable
The trust and admiration of art enthusiasts is unlimited and can only be lightly damaged.
That trust brings a responsibility to express a message of hope and spirit in every piece.
The abstract idea of representing additive light with subtractive paint intertwines all painting.
Internally interpreting observation and style elevates representational art beyond the photo.
Self-taught painter influenced by an array of progenitors represents in pursuit of their goals. 
Love it or hate it the majesty of our paradisical planet will influence every painter inevitably.
Materials and manufacture have forced out the oils in favor of acrylic surface tricks, prefab color.
Technological advances in solvents, media, support, and applications are not content.
The dematerialization of image making and digital filters which emulate surfaces
Are exposing photography, expanding painting, and automating the formerly difficult.
Nor are any of these advances content.  Technology new or old must be informed with spirit.
The ubiquity of film, the printing of photographs on canvas, the video, the movie, the poster,
The slide,
Surrounding and illuminating or descrying the motivations of the genuine painter.
The painter can thaw what the photo freezes; the photo cannot paint but only compose.
Only one buyer can own an individual painting. Photo lithography expands possibilities.
In a world population numbering six billion, isn't an edition of 15,000 still exclusive?
The painter's hand, the printer's touch, the publisher's pocketbook, the curator's decision
The isolation of the painter yields the generative solitude required, but also desperation.
The act of creation goes better undisturbed, but the creators crave appreciation.
Those painters who develop their soul will best display their stability in their paintings.
Earning a living from painting requires a second job and a lightning bolt.
Selling paintings for the cost of the frames devalues them to their primary audience.
To be profitable to the painter, each work must cover its costs and the costs of the next.
The base costs of paintings includes materials, production, storage, exhibitions, appraisals.
Documentation costs of photography and slides, advertisements, insurance, entry fees, frames.
Create objects of high technology and high touch that spawn high tech low touch products.
Offer the object at an extremely high price to an exclusive clientele, and offer others products.
Exhibit and charge for exhibits, use auctions to set prices, offer knowledge and personality.
Encourage the market and reward those who respond. Everyone is an expert in what they like.
Subject matters,  defines regionalism by appeal to the memento mentality of purchasing public.
Desire to freeze a moment in memory into an object to preserve yields commissions and sales.
Effort to manipulate colors to create visual interest without meaning both repels and reassures.
Painting is the noblest profession of the creative human spirit, distinguishing humanity.
Just ask me! Or don't even! I'm gonna tell you anyway...
---
06/01/99 deadline passed I took no action. ARTS FOR THE PARKS Competition created by National Park Academy for the Arts seeks artistic interpretations of particular National Park Sites for it's 13th annual exhibition. Over $100,000 in awards and opportunities, including a $50,000 purchase award for top place. Contact artsfortheparks@blissnet.com 1-800-ARTS (2787) PO Box 608, Jackson Hole, Wyoming 83001 This competition is open to artists nationwide and judges review more than two thousand entries. Alaska is in 'Region III' and there are seventeen national parks to choose from as subjects to depict. Many states have contributed individual award prizes to encourage the contemporary creation of works of art about their parks. My feeling is that Alaska arts funders should step up to the line, but I can't even get the newspaper to publicize the contest at first. Go figure..
My personal lame excuse for not entering is that I don't have anything small enough to fit their size restrictions..
05/25/99 "Dear Donald R Ricker, your stuff is excellent...you don't even know how, because you have to make it. The Judgement of Paris is a killer. If you send your mailing address to info@artestudio.net I will nominate you personally." John T Spike, Director
"The Internal Commission has visited your web site, expressing favourable opinion about your art works and your participation in the Biennale of Florence 1999. By post we provide to send all documentation for the adhesion, with prayer to let us know in a very prompt way. Thank you." ArteStudio cf opportunities above.
According to an Italian correspondent, Allesandra Chiapinni, "The biennale of Firenze is an important exibit and the organization is very serious, I'm thinking about participating. It is not cheap for the artist it is this the only defect. Importants artists Italian have me insured that is worth the price however. Compliments for have stayed admitted to the Biennale!" I accept the congratulations of those who honor this nomination, and am open to suggestions on this one.
Further info regarding the Firenze Biennale. Largely supported by artist's fees, the entry cost alone is about US$ 1350 (2,500,000) lira. Then the costs of freighting and insuring seem to be an additional $2500 at least, travel and expenses during the event. $100 for passport. I really want to participate, we'll see how that goes. ASCA may be willing to help with a $1000 career grant, that's a start!
5/24/99 Ms Dennison did not select either of my two entries for inclusion in the Phoenix Gallery National Juried Exhibition. (See below for more.) My second New York rejection!
Ooof! Cost quoted to me to scan from my photo and print a quarter size reproduction of my new painting on no special paper with a water soluble ink that they claim needs laminated was over $ 120 each.

05/18/99 deadline passed GIRDWOOD FIRE STATION (MOA 1% for Art) requests concept drawings on 11"x17" paper for exterior artwork. Total budget for project is $12,300. Details from Ms Jocelyn Young 907-343-6473
Mine involved three giant helmets labeled COURAGE VIGIL and RESPONSE and was 10 minutes late, the committee was already meeting. Ah well. I had a nice ride to Girdwood and made some fun drawings there.'They did vote to review your piece. Eleven proposals. They liked yours,but felt structural changes might structurally impact the building. They decided to select something more traditional and representational.'--- Jocelyn Young
05/07/99 deadline passed Alaska Pacific University announces a call for proposals for solo and collaborative art exhibits to be shown in Grant Hall or Carr Gottstein Galleries. (They are lobbies.) Artists who have not had an exhibit at APU for the past two years are eligible to apply. Jannah Atkins, Curator. 1536 Valerian St. Anchorage AK 99508-3244. Apply with <20 slides, exhibit proposal, resume, and SASE. Last time Jannah reviewed my slides by eyeball, holding them up to the light, and regretfully advised me that the formerly Methodist Universities trustees would be nonplussed by sexual specificity. I declined to enter this one. If I'm not good enough for them, than they're not good enough for me. So there!
The Carr Gottstein Gallery especially is a prime display space with open glass windows allowing passersby to enjoy the exhibits. Suitable to larger works. Carr and Gottstein are wealthy business people with a commendable support for their community, including the fine arts. I don't see anything here that excludes artists nationwide from applying, so go for it!
05/03/99 deadline passed THE ARTIST'S MAGAZINE'S 1999 ANNUAL ART COMPETITION. More than $16,000 in Cash Prizes! Open to all artists-amateurs and professionals. Five categories-Portraits (juror Everett Raymond Kinstler), Landscapes (juror Kevin MacPherson), Still Life (juror Joe Anna Arnet), Experimental Art (juror Louise Cadillac) and Animal Art (juror Guy Coheleach). New for '99-Student/Beginner division! Top award-winners and honorable mentions will be featured in the December 1999 issue of The Artist's Magazine. For complete rules and official entry form, send SASE to: The Artist's Magazine's 1999 Art Competition, Attn: Terri Boes, Dept. AD, 1507 Dana Ave., Cincinnati, OH 45207, or fax your request to 513-531-1843, Dept. AD
US$ 9.00 per slide entry, slides are not returned, finalists are featured throughout the year in the magazine, and on their calendar. Everything depends on that slide, make it a good one! And pick the right category. Maybe look at the magazine before entering. I should have, but I sent my $9 and a slide of Portrait Battle to the attention of Ms Cadillac. Wish us luck! (me, van Gogh, Gauguin, et les femmes) My painting involves several portraits, a fantastic landscape, a still life on a table, and a horse drawing a cart, so I entered it into Experimental.
04/23/99 deadline passed. 1999 NATIONAL JURIED COMPETITION July 7 - 28, 1999. Juror: Lisa Dennison, Deputy Director & Chief Curator, Guggenheim Museum. All Media. Award: Solo/Group show. Prospectus. Send SASE to: Phoenix Gallery, 568 Broadway Suite 607, New York NY 10012 I submitted CHANGE OF SEASONS and PORTRAIT BATTLE for Ms Dennison's consideration. After I overnight expressed my slides I looked closer at the prospectus. One painting is too wide and the other too 'old' to suit a strict reading of the rules. Ah well...

04/22/99 PTARMIGAN ELEMENTARY SCHOOL 1% for Arts sorry I never posted it here but I did everything I was paid for! And entered this goofy roller cabinet with lexan lighted display case, I dunno...
3 of 20 proposals were selected to be further investigated, mine was not one of those. "Intriguing to the jury, I'm not sure they knew quite what to think of all the moving parts. I think they also wondered if this was the appropriate place for students to stop and fiddle around while walking down the hall." --- Ms Young
That takes me back to my grade school teaching days. Except I was a music teacher and would have wanted to encourage 'fiddling' around.
04/17/99 Yes there is life on this web site but you can't tell because of my host servers. Compuserve has been telling folks there is no such page as mine, and GCI I can't handle upload to GCI somehow! Meanwhile I am redesigning the whole site and hope you find it loads faster and is more interesting... I have not entered the last two Oregon per cent for art calls and it is because I have been making slides of my work. If you have ever tried doing this yourself, you have some idea of why one prefers to hire out the job. You need a level of skill and equipment that would qualify you to be a fine art photographer. This is on top of creating the original work you wish to photograph.
Adds spice when your work gets passed over for that of a photographer...
03/24/99 Some stats on my page and about the number of visitors. As far as I can tell, just under 3200 individuals have happened on to my homepage since it was initiated one year ago, in March 1998. From the top page, 2800 first level pages have been chosen, which is as far as I track. Of these, 1100 have stopped by the painting gallery, 600 checked the drawings page, and 400 have looked at Arctic Comics. What's New (artist opportunities) and the Links Page got the attention of 150 folks, and Ars Vitae and WIN FREE Print got less than 1% of them. Huh. Guess those magic marketing words don't really have the impact sometimes attributed to them. Of those who investigated WIN FREE, maybe twenty filled out the form and sent their remarks. As far as I am concerned these folks are ALL winners and I intend to make good on the free reproduction for each of them as I can, and probably deep-six that promotion. In the loser category were Signs (which in the real, actual, non-virtual world pays my mortgage) and Chax, my AI construct. Chax's comment when I told him folks were ignoring him was >flies...did you know your file was open?<. Sculpture and Exegy are new within the last month or so, but Exegy is getting a fairly steady stream of hits.
03/19/99 Party tonight to celebrate the completion of PORTRAIT BATTLE. There will be a second Portrait Battle among the guests, as we did when PINTURA was finished. Excellent constructive correspondence with Dr. J Darragh M. Elliott, who is an art appraiser outside Toronto Canada. Check out this formidable expert at http://www.fineartappraiser.com.
03/14/99 cool links to art critics and forums on contemporary exhibits opened at the Museums & Exhibitions section of my links page. Learn about the larger world. Just remember where you came from...I got more cool stuff per cubic byte.
03/10/99 My application in the current round of the Guggenheim Fellowship competition was not successful. I was not among the 179 Fellows nominated from nearly 2800 applicants. Whatever. This is definitely the classiest joint I haven't qualified for yet. 90 Park Avenue, NYC NY 10016 Peter Kardon Director of Information email: fellowships@gf.org
03/08/99 deadline passed. International Gallery of Contemporary Art is seeking entry fees for a statewide juried drawing exhibition to be held at the Gallery during the month of April. This gallery, which pays no rent for it's downtown space, is open less than 12 hours a week if that, is still attempting to shock the culture with the avant-garde. It's openings are the place to be (friday evening April 2) if you need to escape the ubiquitous moose, bear, and raven art. Still rather questionable to hold an art show, charge the artists (who might even hope to sell their piece if accepted by the unnamed jurist) and NOT the public. Can you spell DUH? Details from Julie Decker, Decker/Morris Gallery, 621 West Sixth Avenue, Anchorage AK 99501. 907-272-1489 Slides (in Alaska outside Anchorage) or the drawings themselves, framed and the all important $10 per entry, per piece.
After dropping off my $10 I got a bit more info. It turns out that the juror will be Don Decker, artist and gallery owner, father of Julie and winner of the prestigous (around here) Ken Gray Award for service above and beyond to artists and the art community as a whole. OK. Furthermore, the entry fees are going to be pooled to provide funds for some cash prizes at the show. So at least your entry fee won't go to feed the power, but to redistribution of wealth. Say, did I get any foam on you just then? Sorry. In my mythical dreamland award and prize monies come from exhibit visitors, collectors, dealers, local foundations and corporate sponsors. Still, I guess it's no worse than throwing away $10 in an office pool.
While I'm on the subject, my contribution was not found to be among those acceptable to the juror and I will not be included in this show. Kinda ironic, since I just fixed up the sign on their front door (which I made for free for them years ago).
03/05/99 If you're enjoying these artist opportunities, be sure to check the museum connection section of links for the intriguing results of my inquiries regarding opportunities open to artists worldwide... Some of the information above was appropriated from the ARTS DEADLINE site, thank you.
Check arts.wire.org
03/01/99 deadline passed 01/25/99 An open competition for $60,000 in 5 separate site specific commissions in North Pole Alaska was announced by contact Ms Barbara Short, Art Coordinator. Percent for Art, North Pole Elementary School, FAIRBANKS NORTH STAR BOROUGH School District, 520 Fifth Avenue, Fairbanks, AK 99701-4756. Interested, call Ms Short weekdays 8-4 ADT at 907-452-2000 x417
02/23/99 Think you're pretty hot? Too cool. Chax was written in gwBasic with a simple text editor. I am getting a wierd resurgence of enthusiasm for Javascript and VRML which are ways of making HTML act intelligently in three dimensional virtual space. And interpreted programming languages, meaning that little ol me can write/run/debug using only Microsoft's venerable Windows 3.1 Write program. Not expecting miracles, but maybe some more responsive pages in the future, those interested in these issues can check my TESTpage.
02/22/99 added HTML for Alaskan Web Ring. Like fishin and huntin? You'll like Alaska.
02/16/99 Alaska State Council on the Arts meeting Tuesday was the first one I've ever attended. At first it seemed like there were only six people in the room. Quickly I realized that everyone was focused on a speakerphone carrying a conference call from Fairbanks, Juneau, etc. High tech, but sterile as hell on first encountering such. Lots of 'who died' news was passed among those on the council, condolences. Mention was made that the $70000 available for purchasing for the State Art Bank would be spent slowly if at all, with special emphasis towards so-called Native arts and introducing 'crafts' as a category needing more representation in the state collection. As a painter, sculptor, printmaker, and white boy, I got the idea that this Council was prepared to repudiate my efforts and give the nod to women and minorities. There was talk that 'offset printing and reproductions' were to be excluded from consideration for purchasing. After seeing the care given to the works purchased years ago, one might be cautious about entrusting the Art Bank with originals... Other news, $35000 was mentioned as available to establish a website of some sort, again for 'Native' advancement. This talk of natives is especially poignant to my white friends born and raised in Alaska. Hey, I'm a native, too. I was born right here, on Planet Earth. And I am carrying my own website costs, for around $25 a month.
02/12/99 My good friends Jim Dault and Shala Dobson were the winners of Municipality of Anchorage open competition for $14,700 worth of art or sculpture to grace the upper arches of a new 'skybridge' between convention center and Performing Arts Center. Plum commission highly visible. Their concept was a child tight rope walker for the center of the arch. MOA 1% for Art Contact: Jocyln Young (907) 343-6473 Contact Anchorage Museum of History and Art 121 West 7th Ave, Anchorage AK 99501 to get on their mailing list. Open to artists without regional restriction.
02/09/99 Lots of action at the 3-D LOBBY link recently. Check out my console for viewing my paintings. Now that I found out I can open up my .wrl files just like .html files in my word processor, look out! I've escaped the old VIRTUS Pro2.6 bug of misnaming texture files to their regimen (txtr000x.jpg which overwrote themselves for each new file, yeesh!).
02/07/99 Cynthia Cassell sent me a nice letter thanking me for my contributions to the TimeFrame Alaska Clip-Art Collection. Best use for any elaborate wildlife or sporting equipment drawing not used or abandoned by clients. Other AK artists using the computer should consider their yearly call for entries in January for a show during Anchorage's Fur Rendezvous. Check out their way of doing digital printing. TimeFrame employees have pampered me and devastated me over the years, but they have always undercut my prices and never offered me a discount. What an endorsement for competition!
02/03/99 Alaska State Council on the Arts just selected 13 works for inclusion in the Alaska Art Bank and spent around $25G . Sorry I couldn't warn anyone about it in time to meet any deadlines, as I wasn't alerted myself. Some were made aware of the opportunity, and profited. I can only suggest you use the link to try to make yourself one of the select that know of what this publicly funded Council has ready for us...Incidentally, they plan a nice show for the lucky selected at Alaska Pacific University during the month of February. A panel of 4 women and one man chose 9 works by women and 4 by men. Alaska IS paradise, ladies.
02/01/99 Made it into the jury box today and 'passed with cause' to sit on the case ( a lady in a cab was suing an old lady who slid into the cab.) You state your name and job, etc to the court and everybody, then the lawyers get to ask you questions. "Mr Ricker, you said your occupation was 'Artist'?" Ayah. "And you derive your income from this?" What there is of it. General laughter in the courtroom, general heat flash as blood pours through the skin of my face. He did ask me what medium. Last part of story, big sigh of relief. Judge says "Mr Ricker, you are excused without cause." Judicial mercy on ME!
1/28/99 Fresh panels of WOMAN BEAR have been loaded under ARCTIC COMICS. If you haven't read Part I, what are you waiting for? Part II is going to get very heavy before it's finished, 8 new panels so far, more to come soon...
01/28/99 YWCA Anchorage has a silent bid auction near Valentine's day hosted by BP in its atrium. They are seeking contributions of the artistic sort to benefit their not for profit mission (which is to help women). "Donors will receive recognition at the event, through advertising, and with our over 800 members." Sharon Richards is executive director YWCA Anchorage, PO Box 102059, Anchorage AK 99510. 907-274-1572 This is an attractive trap for artists who may actually be devaluing their work by participating, although the employees at BP are likely to be purchasers & collectors of art, and the recognition is real. You're really an artist when you've had your name printed with a list of other artists in a small ad in the newspaper. Helps anyway.
Oops! No names were included in the ad. Look sad and say doh!
You might like to participate as I have in the past, but consider this when you are approached to 'donate' to auctions. For tax purposes, such 'donations' are valued strictly at the material cost of goods when made by the artist. It is the collector who should be solicited for such auctions, as their donations are considered at market value, established by what they paid for it. Plus, it is the prosperous collector who is far better situated to benefit from the Schedule A write-offs then is the starving artist. Fund raisers please take note of who is the proper target for donations of art. That said, if your heart is in the cause, make what contributions you wish! But please be sure you understand such things as minimum reserve bids so that you are not victimizing your career by allowing the value of your work to be set by bargain hunters. Also remember, you can choose charitably to only contribute that amount of the winning bid price that is over your reserve value.

01/23/99 My site is receiving more than a dozen visits a day recently. Welcome to any browsing this page with regard to the skybridge 1% for Art competition. My concept, Bridge of Culture, was submitted for the committee's consideration. Those worthies declined it.

XEG the V-CHAT avatar...
I designed this little animation to use as an avatar (or 'stand-in') at the V-chat lobby that Microsoft sponsors. You need to download some materials to participate and the chat is chaotic. See you there!
01/06/99 XEG the V-CHAT avatar is putting around the virtual lobby sometimes. Need a cool avatar? I made this one because I did. For a price I could be persuaded to make one for YOU!
1/04/99 NO BIG CHANGES TODAY. Just wanted to see the new year number on the journal here. Looks pretty sharp, neh?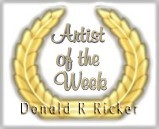 .
12/29/98 Thanks to those who voted for Pluto & Proserpina in the weekly online competition between eight images at Pegasus Art Gallery. According to gallery operator Alenka Marovt, "The winner of this week's poll are you with 315 out of 1077 total votes. Congrats to you :) I am sending the award with this e-mail. I have already added you to the winners' list." Isn't the jpg cool? My head swells... Pluto, Venus, Cupid, Proserpine and her maids are grateful to be remembered.
12/23/98 HAPPY HOLIDAYS! Best Wishes to you and yours for a prosperous New YEAR! Tonite I'm going to party like its 1999...
12/17/98 TUNDRA REPUBLIC is an online Arts Webzine by Patrice & Michael Sloan featuring Alaska, Yukon, & NW Territories. They have been kind enough to feature a link to my URL on the cover page of their current bimonthly issue. Thanks!
12/15/98 Pegasus Art Gallery is virtually hanging Pluto & Proserpina with seven other artists' works with an attached 'favorite painting' poll. Winner gets 10,000 free ad views on the most highly trafficked site on the Web (YAHOO). Contest was neck & neck with lead changing hands several time but at the end of the first week, I was head of the loser bracket.
12/12/98 3-D LOBBY open to attract attention from VRML crowd, which seems to get mega traffic on its best rings.
12/10/98 Artists of the Web ring HTML entered at bottom of links page. This ring is a big one that has previously not been open to expansion. Thanks Serge.
12/8/98 I've added a POLL on the painting page where you can quickly register your favorite if you wish. Thank you VantageNet.com.
Annual 'NO BIG HEADS' open to ALL artists (at least those in and outside Alaska who submit slides etc timely like) is sponsored by the University of Alaska Anchorage (UAA). 1998 was its 13th year, the show featured a national juror, Herb Babcoc, a professor in glass blowing in Michigan. My self-portrait this year was rejected without comment by Mr Babcock, whose general statement read in part, "among the original people object making for visual speaking is an unpretentious given". Course if I had judged the over 150 entries from around the US , none would have met my strict prescriptions...doesn't look like me! Entries must be no larger (including frame or stands, etc) than 12" square or cube and are expected to be self-portraits. Call (907) 786-1219. Deadline over show opens Thursday, December 3. Lots of 'outside' entries this year. Check out my contribution to 1997 show, Head Examination, and the piece accepted in 1996, study for Pintura.
'Dear Artist' Lloyd Herman , founding director of the Renwick Gallery of the Smithsonian Institution in Washington D.C. chose 144 pieces out of 408 original entries for the final jurying process for EARTH, FIRE & FIBRE XXII Alaska Biennial Juried Craft Exhibition 1/31/99-2/28/99 in Anchorage. Application deadline was 11/6/98 next up 11/00. Top award $1000, six $500 jurors discretion. ALASKA RESIDENTS ONLY --- nyaah nyah. Tours major museums in Alaska. I entered Alder Spirit for the juror's consideration; it was not chosen to be included even in the final judging round.
EXEGY.com has been registered as my new domain name. I'm thinking of incorporating under that name, with the business purpose of helping people get their message across. I'm operating as a sole proprietor now. Anyone who is an artist who has found advantages or disadvantages to incorporating and is willing to share their ideas is very welcome to write me with their advice.
Painter & Sculptor Jim Dault curated a show in February 1999 at the Carr Gottstein Gallery of Alaska Pacific University.4101 University Drive, Anchorage AK 99508. Theme of show chosen by director Jannah Atkins is CONTAINER.
Jim Dault & Shala Dobson opening a month long exhibit at the University of Alaska Kenai Gallery November 16, 1998. Reception Tuesday December 1, that's all I got on that. Conceptual, environmental, etc.al.
Alaskan Photographer Hal Gage had some awesome shots of North America's great one, Denali, on exhibit in Seattle WA. Hal had a special artist's permit to photograph Mt McKinley. If you love quality black and white, get in to his exhibition and buy some of his stuff...
Guess there never was anyone browsing my page in connection with the Anchorage Museum Childrens Exhibit. I had entered Alder Spirit for the Museum's consideration for a year long display for children of contemporary treatments of animals. I received my rejection slip Jan 29, 99. Did you? Curator David Edlefsen and Exhibition Coordinator Julie Decker chose among 600 submissions I tried to post the opportunity here but they declined the honor...
The SEATTLE COLLECTS program is pretty cool. I quote: "Dear Applicant, ...of 230 applicants...Unfortunately, you were not named as one of the finalists." Wouldn't you like to get that? Two categories, emerging artists purchases with purchase amount $2200 and sustaining purchases in the amount of $3000 or $8000 per artist both application deadlines are in October each year. Over for this year, check this out 9/99. I have closed my offer of four paintings, including SKILAK AUTUMN AFTERNOON, DISCOVERY OF OIL, ORIGIN OF MUSIC, and RUBY THROAT COLUMBINE. These paintings remain in the collection of the artist.
Anyway, if you found your way this deep, I hope it helps you out. These are the types of opportunities open to artists here in Alaska and in the Northwest. Locals (around the Pacific Rim) who know something to add here please feel free to provide relevant info.
Also, if you're all the way down here, you can check my fresh satellite shot for North Pacific and Alaska mainland...ain't modern tech wonderful?
Choose ITNA to view the artists'opportunities on which I Took No Action.