1995 Donald R Ricker
(46"x94" oil on hardboard)
---
You reached this page by investigating even the moon or the brass spittoon!
By this I know that you have a sincere interest in this picture. Perhaps you should own a reproduction of it, or want to be notified when it's lease term comes open to auction.
I have no reason to think that Henri indulged in chew, but my favorite fiddle player in the world does, and I was thinking of him when I painted this. Rousseau's story really resonates with me because of his lifestyle, his sincerity, creativity, and his self-confident persistence.
Party for Rousseau exhibited in All Alaska Juried Painting Exhibition at the Bunnell Street Gallery in Homer, AK. June 1999 Selected by Juror Clarence Morgan
Party for Rousseau was exhibited at the 'D' Street Café in Anchorage AK September/October 1999 and reviewed by Suzie Buchanan for the Anchorage Free Press and by Andy Nau for the Anchorage Daily News.
---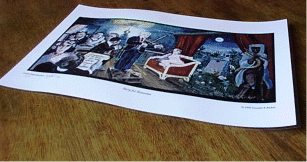 ---