Portrait Battle by Don Ricker is part of his exhibit this month at Out North
By Dawnell Smith, Daily News reporter
---
Don Ricker's show of oil paintings at Out North this month delves into mythology, history, and the human landscape. He paints with bold colors, shaping narrative with every brush stroke, but many people will focus on something else entirely: the nudity.
In fact, Ricker describes the Nude Excuse Series as a celebration of the heroes of art and love. In several pieces, male figures look deep in thought while barely dressed or undressed female characters sit, stand or work nearby. If nude figures make you nervous, then get nervous.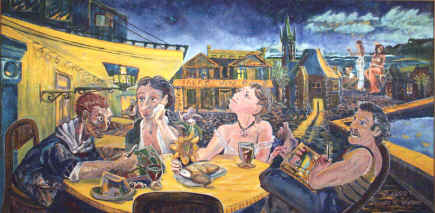 ---
Otherwise study up on history and myth before trying to unravel what Ricker's up to. Several of his scene-driven pieces include historical and mythical characters such as Rousseau, Van Gogh, Pluto, and the Seven Sisters.
The show also includes several landscapes, including one of the Anchorage Bowl. None of the paintings measures less than 6 feet, which means the spacious gallery with a high ceiling finally looks sated.
As Ricker put it, "There's a lot of story and a lot of figures and a lot of landscape."
---
The show continues until Feb 14, 2006. Look for a review on the Daily News Web page.