By Scott Christiansen
---
JOB: Don is a sign maker and artist.
WHERE: A one-bedroom house in Spenard.
How long have you had this place?
I bought it in ninety-seven. Before I got it, any number of diferent little businesses were run in this area, straight out of the carport. It had an after-hours joint in here and a shoe shop. The guy right before me sold solar panels out of here. Do you like my basketball court? It gives me a chance to break it up during the workday.
What's that painting called?
That's Discovery of Oil, she's awakened at night by the excitement over at the drilling rig. She comes out there with her little lamp to try to see what's going on. It's like a lot of my paintings, it's not entirely historically accurate. You can see that her coat is made out of polar bear hide and the tent sort of looks like she bought it at REI. It's all out of the imagination.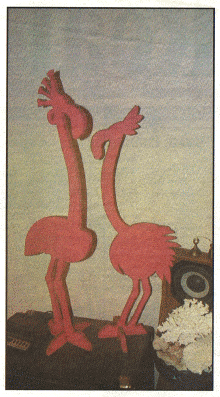 Any advice for people who want to work at home?
Well they'd do best by following what the IRS wants you to do and have a separate place with a separate entrance. And to be honest, the people that I have seen successfully working out of home are not in a corner of their living room or on a kitchen table. They have their own space. I try to make it so when a customer enters, it doesn't feel like you're in somebody's house. I work here at the computer. I want to show you this; on my computer I have my design for the new museum.
Is That Serious drafting?
No, it's just something I do for fun sometimes. I really haven't shown it to anybody. This is where buses would drop people off, and this tower would be ten stories tall so you could see Mount MckKinley. The McKinley Room up there would be full of all our best paintings, by Sydney Laurence and Fred Machetanz. The tower would provide a destination for the tourists.
---
Show me your house.
The original house was this kitchen area. I'm told it was built in 1956. I think they built everything small because supplies had to be shipped up. Then they built an addition that is the bedroom. When I came into the house, I had to raise that doorway about eight inches so I could fit through it . I had to widen the doorway to the kitchen about seven inches so my shoulders could fit through. The space over there was a porch and then it became a part of the house. My addition was this greenhouse --- it looks pretty homemade, doesn't it?
Tell me about this landscape painting.
You might recognize that. It's Kachemak Bay and the scenic overlook right above Homer. There's the Spit. I happened to be down there during a painting seminar, I think in 1998 or something. I just hung out and made some sketches of it and came back to the studio and worked up the painting. My friend Matt Johnson came by and was naming every peak across the bay. He said, "This is mount so-and-so and you got that one a little high". This is my 49 star flag, seven rows of seven. They gave those away during the 'We're In!' parade. I wasn't here yet, nor was I alive, but I've always been really proud of it.
Were you playing guitar when I came in?
Yeah, I used to lead a band a little bit and write some music. I don't dare go out in front of the public any more. Duke (Russell) and I get together and bang around sometimes.
Who did this wooden take on flamingos?
I did those from a Gary Larson cartoon. You can't be in Spenard without pink flamingoes. Larson's caption was 'Punk Flamingoes'.
When you found the place, did you think it was perfect because it was in Spenard or it's perfect except that it's in Spenard?
I was happy that it was in Spenard. I like downtown, and Spenard is second. There are a lot of artists in the neighborhood. I like to refer to it as the authentic culture and arts district in Anchorage. And I like to be able to walk to my suppliers and to walk to my banker and my grocer. I can walk to Blaine's, and Spenard Builders Supply is right down the street a ways. When you work out of your home you don't have a commute. I'm still working out of my house every afternoon when there's 36,000 cars streaming by right across the park. There are other benefits for them, of course, but when they're sititing in their cars, I'm at home.