By Sandy Gerjevic
Roll over, Monet.
The art squeezed out at a rogue event hosted by University of Alaska Anchorage art students last weekend was imPRESSive.
Art enthusiasts and the merely curious who attended "Steamroller Prints & All That Jazz" not only absorbed good vibes from the UAA Jazz Club, they had the unusual experience of observing steamroller art in the making.
The term "steamroller" gets the idea across, but it was actually a modern-day compactor that associate art professor Garry Kaulitz drove over a series of large, wooden blocks, most carved from plywood.
Think of the potato prints you made in grade school. You cut the potato in two, carved a design in one half, inked it, then pressed it onto a sheet of paper. This is the same thing on a larger scale.
The all-day event produced a series of monoprints designed by 26 artists from around the state. This hard-hat art was definitely hands-on; it took about eight people to produce one print, said Kaulitz.
While his students were the driving force behind the event, it was Kaulitz who got to hop on the compactor, the same kind road crews use to smooth out pavement. The hard part was steering the thing, he said. Also, the machine did not go very fast.
What a "relief."
Apologies, but there's just something amusing about art on such a mechanical scale. Kaulitz, who teaches printmaking, got the idea down south when he attended a conference of the Southern Graphics Council, an organization that caters to printmakers.
"I thought, wow, this is just really neat," he said.
With a community-learning mini-grant from the university, Kaulitz solicited artists to produce original woodblocks. Contributors were not necessarily printmakers or even carvers. Their designs included everything from nude women on horseback to portraits to Alaskana to abstracts.
Forget high concept. Try high impact.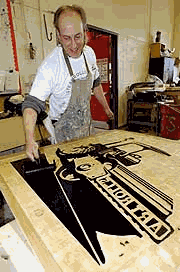 ---
The art-makers began by placing the half-inch-thick woodblocks on the floor near the open bay door of the UAA sculpture studio. The blocks, which had received a sealant, were then summarily inked. On top of the blocks, workers placed thermal drapery backing, a material later easily stretched onto a frame. Then a protective sheet. Then a plastic board. Then big pieces of carpet.
The artists probably had to rest a few minutes after that.
Finally, they tackled the tedious work of maneuvering the rolling, flattening drum of the compactor, which was about 4 feet wide.
The first print came out lousy. Armed with more ink, the artists tried again and again until they got it right.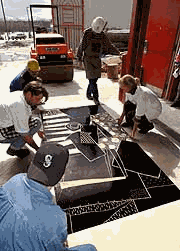 "By the end of the day, we were turning out pretty perfect looking prints," said Kaulitz.
Artists, students and other supporters produced 35 monoprints, which will go on exhibit at the International Gallery of Contemporary Art and the UAA campus center gallery beginning Friday.