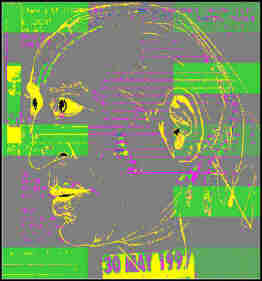 HEAD EXAMINATION
1997
Donald R Ricker
(8"x8" inkjet digital original)
---
The ghostly, highly technical magnetic resonance image was used as a bitmap fill for the inverted background of the pencil sketch study for PINTURA. The solid black openings into the skull are intimations of the artist's determination to overcome medical difficulties..
HEAD EXAMINATION was exhibited at the University of Alaska Anchorage Campus Center Gallery during the month of December 1997. It was selected by Juror Rudie Berkhout for inclusion in NO BIG HEADS, a national competition of self-portraits no larger than 12"x12".
---
1998 was the 13th year for NO BIG HEADS. The show was judged by juror, Herb Babcock, a professor in glass blowing in Michigan. My self-portrait this year was rejected without comment by Mr Babcock, whose general statement read in part, "among the original people object making for visual speaking is an unpretentious given". Course if I had judged the over 150 entries from around the US , none would have met my strict prescriptions...doesn't look like me! I made the picture to the left by tracing my reflection in the monitor using a mouse. It captures my forehead convincingly, I think, don't you?
| Drawings page |