PO Box 103554, Anchorage, AK 99510-3554
Serving ALL of ALASKA since 1978, in Alaska call toll free at 1-800-770-SIGN. Elsewhere dial 1-907-277-7446. Phone or fax to these numbers. If we can't answer directly, press (9) for our SIGN-FAX service for a list of FREE fax-back information about signs.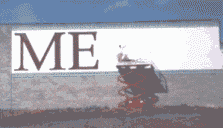 . Donald R Ricker is founder, owner, and chief creative director & bottle washer of the graphic design firm BETTER LETTERS. His special talent is his ability to make words convey an image visually. Many commercial and private clients demand that extra edge..
Need a LOGO or a SIGN? Gain the real advantage of having a trained creative graphic designer on your marketing team.
Want to personalize your vehicles and boats? Impress your friends with fresh lettering and graphics in vinyl or paint.
Like these web pages? Computer graphic expertise makes the difference in holding people's attention.
---
TimeFrame electronic print house & Alaska Clip Art http://www.tframe.com
Sign Suppliers database http://www.sign-makers.com
Signpainter's informal association http://www.letterheads.com
Sign Business trade magazine http://www.signshop.com
Source to the Sign Industry http://www.signsearch.com
Fonts: http://www.mediabuilder.com