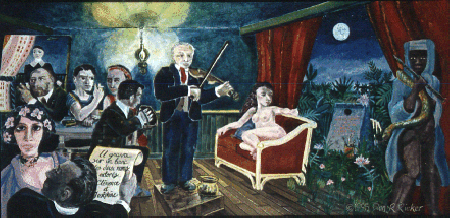 PARTY FOR ROUSSEAU
1995
Donald R Ricker
(46"x94" oil on hardboard)
---
Henri Rousseau's greatest moment came in 1908. Pablo Picasso organized a banquet to honor his achievements and decided to have it in his own studio in the bateau lavoir. The immediate occasion is supposed to have been Picasso's discovery of the handsome, full length painting Portrait de Mlle. M. (1897), which Picasso bought for five francs. Among the guests invited for the meal were the dealer Ambroise Vollard, collector and authoress Gertrude Stein, artists Georges Braques and Marie Laurencin, and the poet Apollinaire, who read from a poem he had written for the occasion. In reply le Douanier raised his fiddle. Before long he was playing one of his waltzes, Clemence, named for his first wife.
The year following his death, Delauney and Queval (Rousseau's landlord) contributed to buy a plot in the cemetery and to erect a small tombstone with a bronze medallion of Rousseau. Apollinaire wrote in chalk an epitaph which immortalizes the Douanier. Brancusi chiseled the lines into the stone in 1913: "Gentle Rousseau you hear us / We salute you / Delauney, his wife, Monsieur Queval and I / Let our baggage through free at heaven's gate. We shall bring you brushes and paints and canvas / So that you can devote your sacred leisure / In the light of reality / To painting the way you did my portrait / The faces of the stars."
Party for Rousseau exhibited in All Alaska Juried Painting Exhibition at the Bunnell Street Gallery in Homer, AK. June 1999 Selected by Juror Clarence Morgan
Party for Rousseau was exhibited at the 'D' Street Café in Anchorage AK September/October 1999 and reviewed by Suzie Buchanan for the Anchorage Free Press and by Andy Nau for the Anchorage Daily News.
---
---