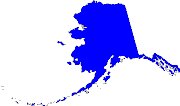 Alaska Art and Contemporary Alaskan Artists Connections
The wonderful scale and beauty of the land called Alaska has attracted and held the love and attention of creative souls down through history. Works of regional, traditional and contemporary artists alike are found fresh with the vigor inspired by our magnificent environment. The following links offer an incomplete overview of some of the activity taking place in the visual arts.
---
Alaska mainland and North Pacific NOAA satellite shot
Alaska Air Lines
AlaskaDigital Archives search engine
Alaska Glass Gallery, Anchorage
Alaska Historical Society
Alaska Museum Association
Alaska Native Arts
Alaska Native Heritage Center
Alaska Railroad 'CONTEST' for artists
Alaska Serigraphics, Anchorage
Alaska State Council on the Arts
Alaska State Museums in Juneau and Sitka
Alaska Statutes AS 35.27. Artworks in Public Buildings and Facilities
Alaska Online WHITE PAGES
Alaska Star
Alaskan art and artists of 20th century
Alaskan art of 20th century by UAF Kes Woodward
Alaskan Heritage Foundation
Alaska Indian Arts
Alaskan Women Artists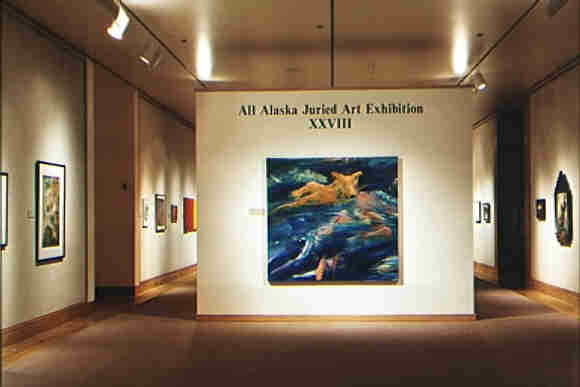 All Alaska Jurored Arts Exhibition AKXXVIII at the Anchorage Museum juror Lawrence Rinder:
Anchorage Daily News
Anchorage Concert Association
Anchorage Dealer/Artist ordinance
Anchorage Museum of History and Art
Anchorage Opera
Anchorage weather
Art Lover
ArtistTrust Journal News Seattle WA
Artists Alaska Gallery
Artique Limited Gallery
Art Nat Am



ArtSceneAK: Monthly online review of Alaskan Art and Alaska Artists
Art Studio Alaska
Aviation Art of Robert Thompson
Bach, Gunther, Anchorage
Barber, Christina, Anchorage
Bardarson, Dot, Studio in Seward
Birch Tree Gallery, Soldotna
Blue Moose Studio
Bradley Reid Communications
Brody, Arthur W (Bill), Fairbanks
Bunnell Street Gallery, Homer


BUY ALASKA

Cacioppo, Lou, Maskmaker
Chicago AlaskaShop Gallery of Inuit Art
Conti, Mike
Color Creek Fiber Art Studio, Anchorage
Coons, Katharine, Anchorage
Curtis-Johnson,Robert, Bob's Shorts
DeRoux, Dan, Juneau
Dranchak, Sue, Fairbanks
DeRoux, Ken, Juneau
Duffy Info Design
Dunlap-Shohl, Peter, Anchorage
Federation of Canadian Artists (FCA)
FerocityDesign
FitzGibbons, Bill, San Antonio, TX
Gause, Charles, Anchorage
GriffithMarianne Elson
Hendrix, Dianne, Anchorage
Herlinger, Ted, Anchorage
Higgins, Arthur, Mosier, OR
Hollomon, Gina
Hudson, Clarissa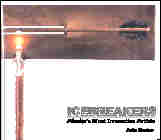 ICEBREAKERS: Alaska's Most Innovative Artists by Julie Decker 1998
International Gallery of Contemporary Art IGCA
Inuit sculptural art in 3-D
Jamieson, Sandy, Ester
JoeSam, San Diego
Johnson-Williams, Judy
Jolliff, Jennifer, Anchorage
JuniorTowne, Anchorage
Visitor & Cultural Center, Kenai
Killer Designs, Anchorage
Lamb, Shane
Lambert, Carol
Land Design North, Anchorage
Lekander, Lance, Anchorage
Lester, Jean, Ester
Livingston Slone Architects, Anchorage
Lowe, K.C.
Lyon, Cheryl
Louisiana Division of the Arts


Made in Alaska

Marcucci, Kim, Anchorage
Marmot Press
Mat-Su Valley Arts Alliance
Mat-Su Valley Fine Arts Association
McDermott, Mark
McGhee, Kerby, Anchorage
mMense Architect, Anchorage
Morgan, Lezli F, Sitka
Munoz, Rie, Gallery
Munro, Alan, Juneau
Myntti, Laura, Detroit
Nedland, Joe
Olsen Sundberg Architects, Anchorage
OutNorth Theater, Anchorage
Potter, Carla
Patterson, Bob, Arctic Legend prints
Pouch Cove Foundation artist residency, Newfoundland, Canada
Pratt Museum, Homer
Ptarmigan Arts Gallery, Homer
Raise the Dead Coffee
Rasmuson Foundation, art philanthropists
Ray, Bill C
Reed, Fran
Ricker, Donald R

RiseAlaska consultants, Anchorage
Rogers, Lisa, Fairbanks
Rosenberg, Myron, Anchorage
Russell, Duke
The Saatchi Gallery, London England Satrom, Charlen Jeffries
Schwall, Buzz
Shake, Cindy, Girdwood
Shavings, Henry
Sitka Music Festival, Sitka
Smith, Kathy
Smith, Jamie, Ink and Snow
Sonneborn, Alexandra
Specialty Imports wines, Anchorage
Stephan's Fine Arts
Summerlin, Kristin, Two Rivers

theStranger, Seattle WA art listings
Suchland, Michele
Suiter, Sheary Clough
Tomlinson, Elise
Tompkins, Jimmy
Troll, Ray
University of Alaska Fairbanks Art Department, Fairbanks
University of Alaska Museum, Fairbanks
Usibelli, Michele
VanZyle, Jon
Visual Artists Rights Act 1991 (VARA)
Washington State Arts Commission
Wedekind, Mark, Anchorage
Wells Street Art Gallery, Fairbanks
Western Artists Foundation
Woodward, Kesler, Fairbanks
Woodward, Kesler. Blog --- "Painting in the North:Art of Alaska and the Circumpolar North":

TUNDRA REPUBLIC was an online Arts Webzine by Patrice & Michael Sloan featuring Alaska, Yukon, & NW Territories. They were kind enough to feature a link to exegy.com on an early issue. Thanks!
Please let me know if you have or know of a site dealing with Art in Alaska. Be sure to include the complete web address on the form...
Here's what Alaskan's have been reading recently about our state:
These are some of the videos about Alaska that we like:






You are invited to take advantage of ArtSceneAK's Association with Amazon.com to add these items to your own libraries.